Introduction
The first tactical battle in this season was finished with a draw but Chelsea looked so much better than Conte's side. Especially, I think Chelsea's pressing destroyed Spurs build up and this can be copied by many teams against Spurs. Playing out from the back to drag pressure out and exploit the space in behind is Conte's main tactics but Chelsea prevented them from doing it by maintaining compactness and having a spare player. In this article, the analysis of the game and the importance of a spare player when pressing are going to be discussed.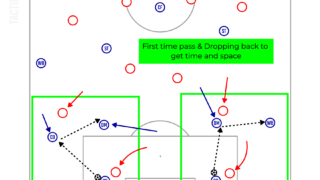 How to create counter attacks by own possession [Antonio Conte's Football]
Detail analysis about how to create counter attacks from keeping possession. Why Antonio Conte's football is unique and effective is explained....
Chelsea's 4-2-2-2
Chelsea usually play with a 3-4-3 but they used a 4-1-2-3 against Spurs last season. In this game, they looked like playing with back three out of possession but it turned into back four in possession. The aim of this is to adapt Spurs' pressing. Three attackers of Conte's side are excellent at playing counterattacks so Chelsea were required to find safe routes to play through. Actually Spurs regained the ball in midfield and played a counterattack once. However, Chelsea dominated the midfield after that and never conceded counterattacks anymore. Then, how Tuchel revealed the gap of Spurs' 3-4-3 is going to be analysed.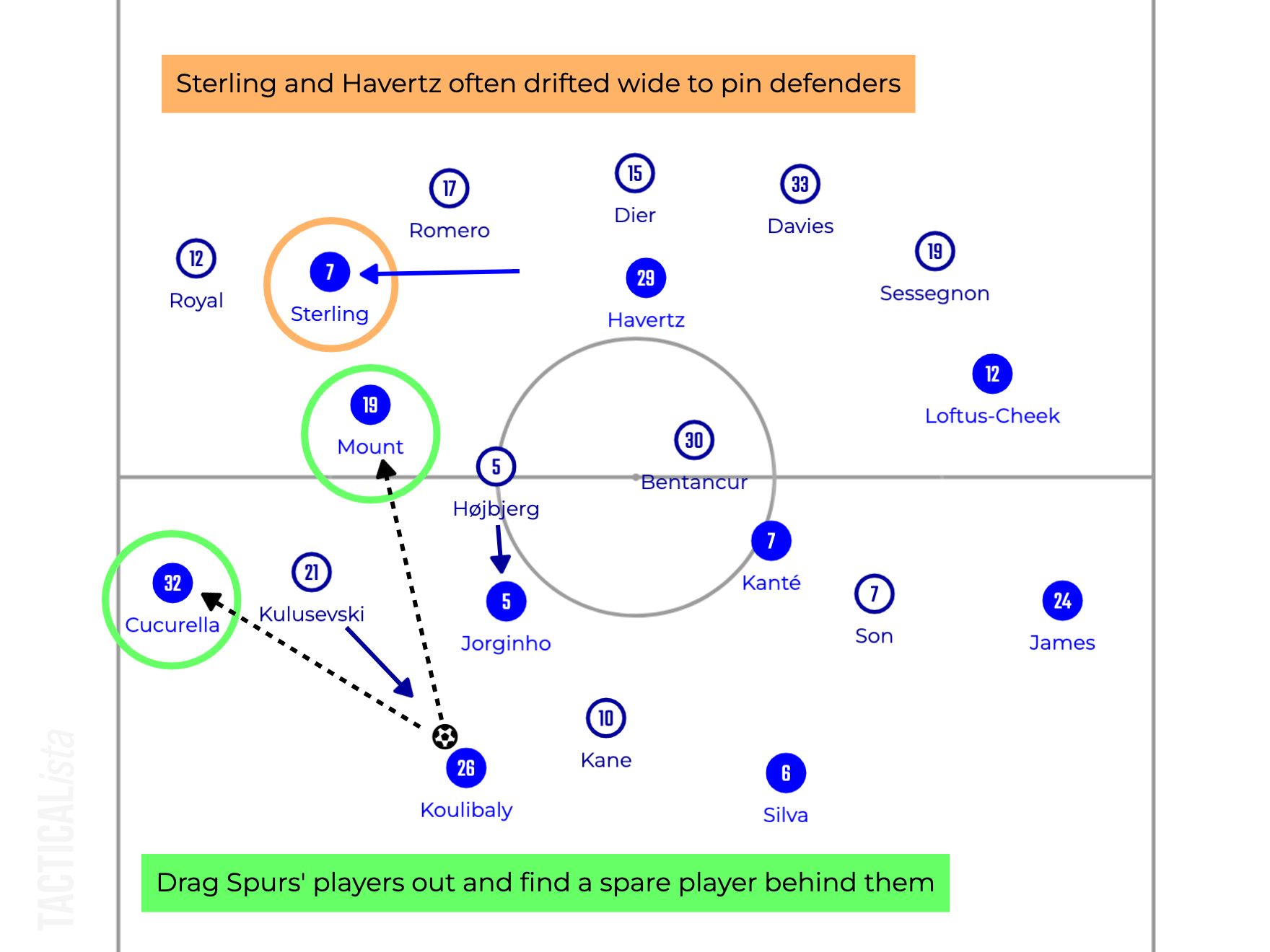 This is the main aim of Tuchel's build up. Firstly, Koulibaly was the main player to play split passes and the players receiving the passes were basically Mount in between the lines and Cucurella behind Kulusevski. However, it was necessary to pin Spurs' defenders to prevent them from pressing to Mount or Cucurella. This was the task for both strikers to drift wide to pin the wingback and side centre back. Thanks to this movement, it was possible for Chelsea to create 4v2 in the left side. Therefore, if Kulusevski pressed on Koulibaly, Cucurella became the spare player and if Højbjerg tried to mark Jorginho, Mount could receive the split passes from Koulibaly. Additionally, both Koulibaly and Jorginho were good at having the ball and attracting the pressure, which made it difficult for Spurs to deal with this situation.
Struggled with Breaking the Block
However, Spurs are excellent team at defending deep and waiting for long time to play counterattacks, which was the way to get some points against Liverpool and Manchester City. Like both great teams in Premier League, Chelsea also struggled with penetrating into the 18-yard box.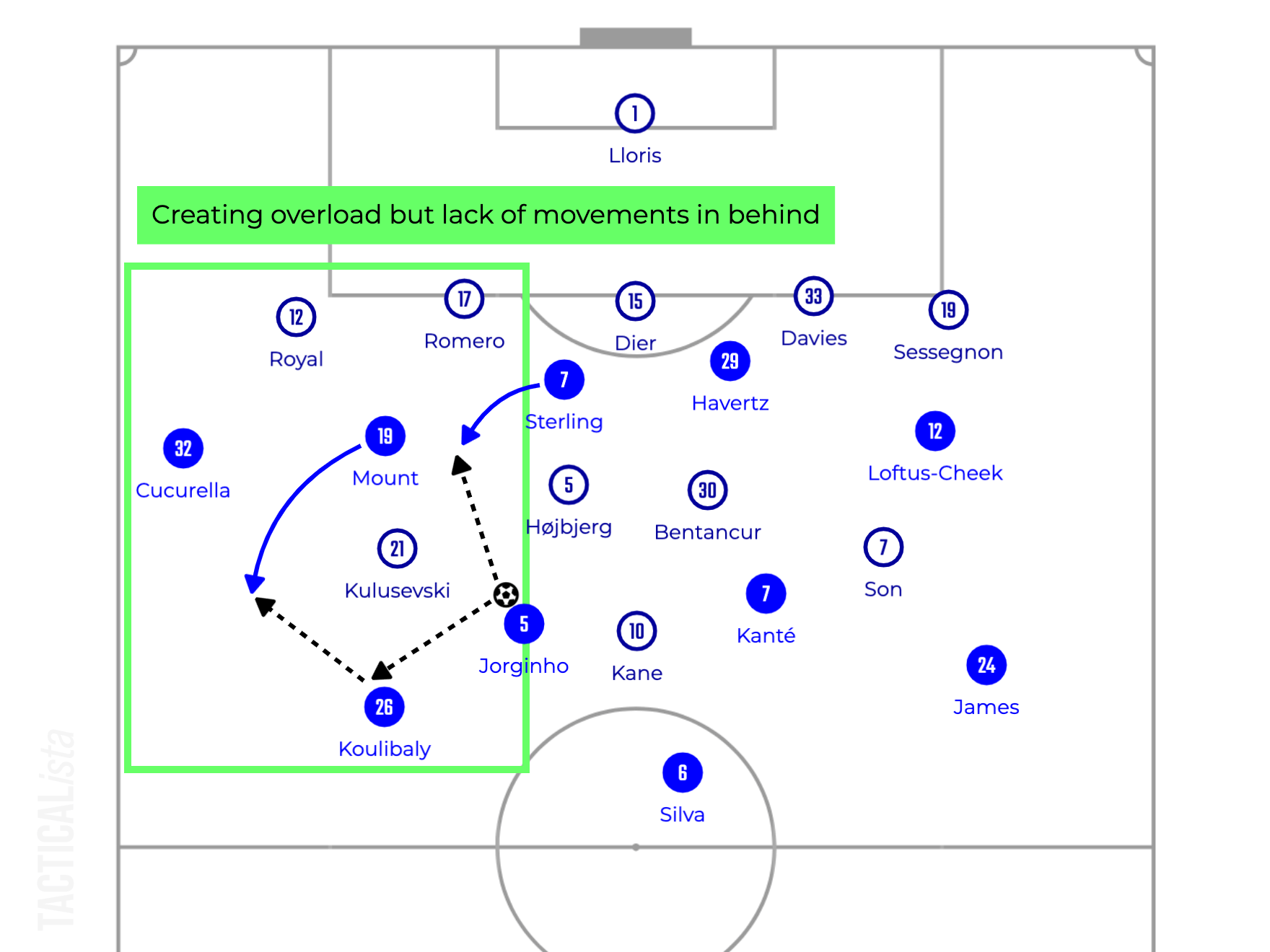 As it is like build up, Chelsea's final third attacking was taken place in the left side. Mount, Sterling and Havertz were flexible and moved across the pitch to disrupt the low block of Spurs. Especially, Mount initially tried to receive the ball in between the lines but sometimes drifted wide to receive the ball away from pressure. Additionally, Sterling came into the pocket where Mount vacated and created overload in the left side. However, as it was against Everton, they often lack the movements to create the gap between the opposition defenders so most of possession ended with simple crosses.
The Importance of a Spare Player When Pressing
Spurs is very good at keeping possession at the back to attract the opposition pressure and exploiting the space behind the opposition defenders. Therefore, Chelsea needed to do something when pressing. The Conte's aim is stretching the opposition players and creating the gap between the lines by keeping possession, so Tuchel decided for both strikers not to press on Lloris and kept compactness of players. Additionally, both attacking midfielders Mount and Kanté mark Spurs' defensive midfielders, which made it difficult for Spurs to play through in middle and they were forced to play wide.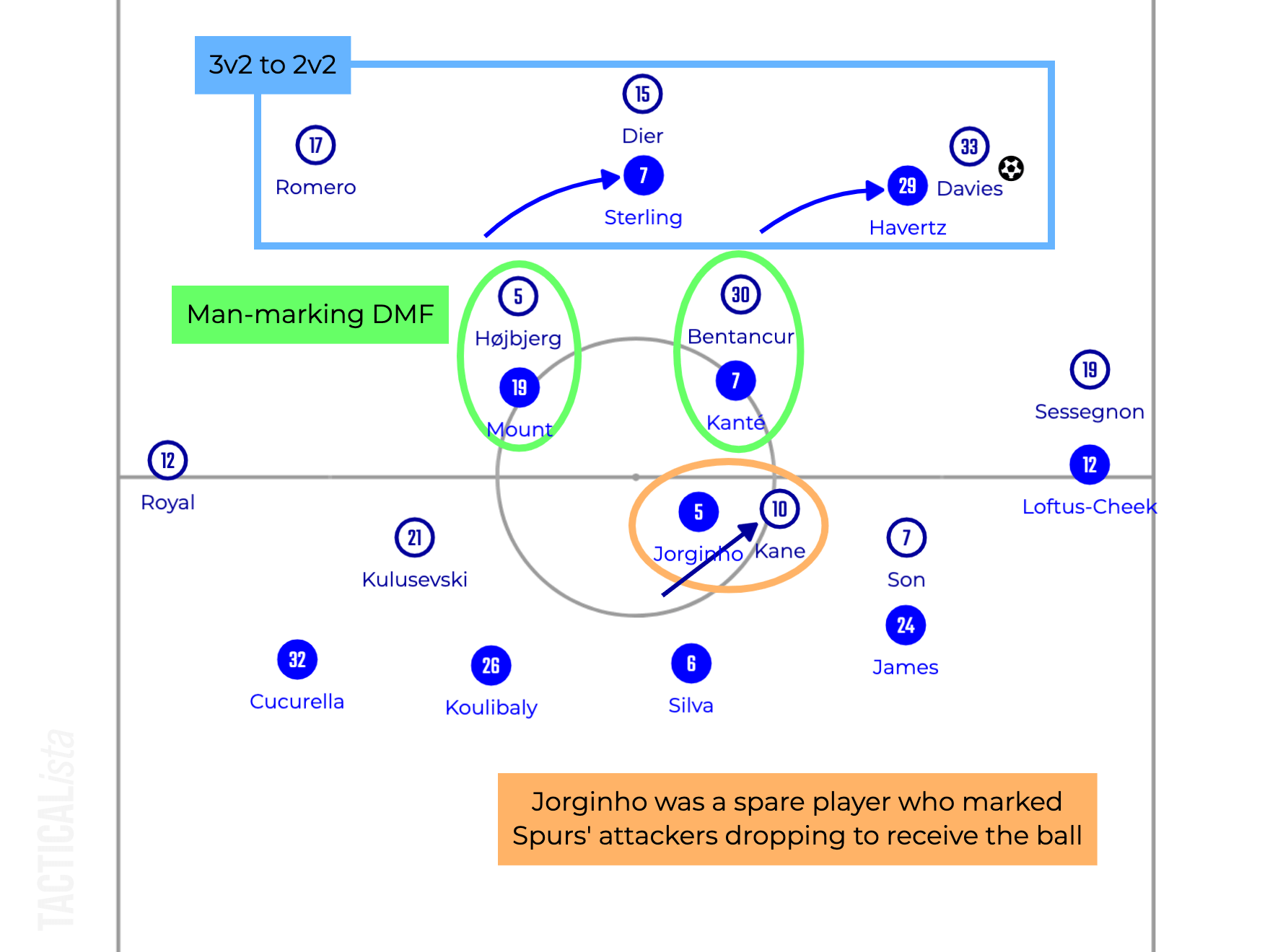 However, Spurs are usually able to play through under pressure and it is the situation which they want to create. This is because one of the attackers drops to receive the ball with dragging one of the defenders out of his position and they will exploit the space in the gap with planned movements. Therefore, it was necessary for Chelsea to deal with the attackers dropping back. Then, Jorginho was the key player. He initially defended the space instead of marking someone as a spare player and if one of them drops to receive the ball, he marked the attacker, which enabled defenders of Chelsea to stay in their position and avoid being disrupted. This task of Jorginho was really important for Chelsea and Spurs couldn't play through well.
Spurs' Tactical Change in Possession
Of course, Conte is also genius and tried to make some changes. In order to cause problems in Chelsea's front players, he let Højbjerg drop to the back and made it back four. It could make overload at the back and confuse Chelsea's players.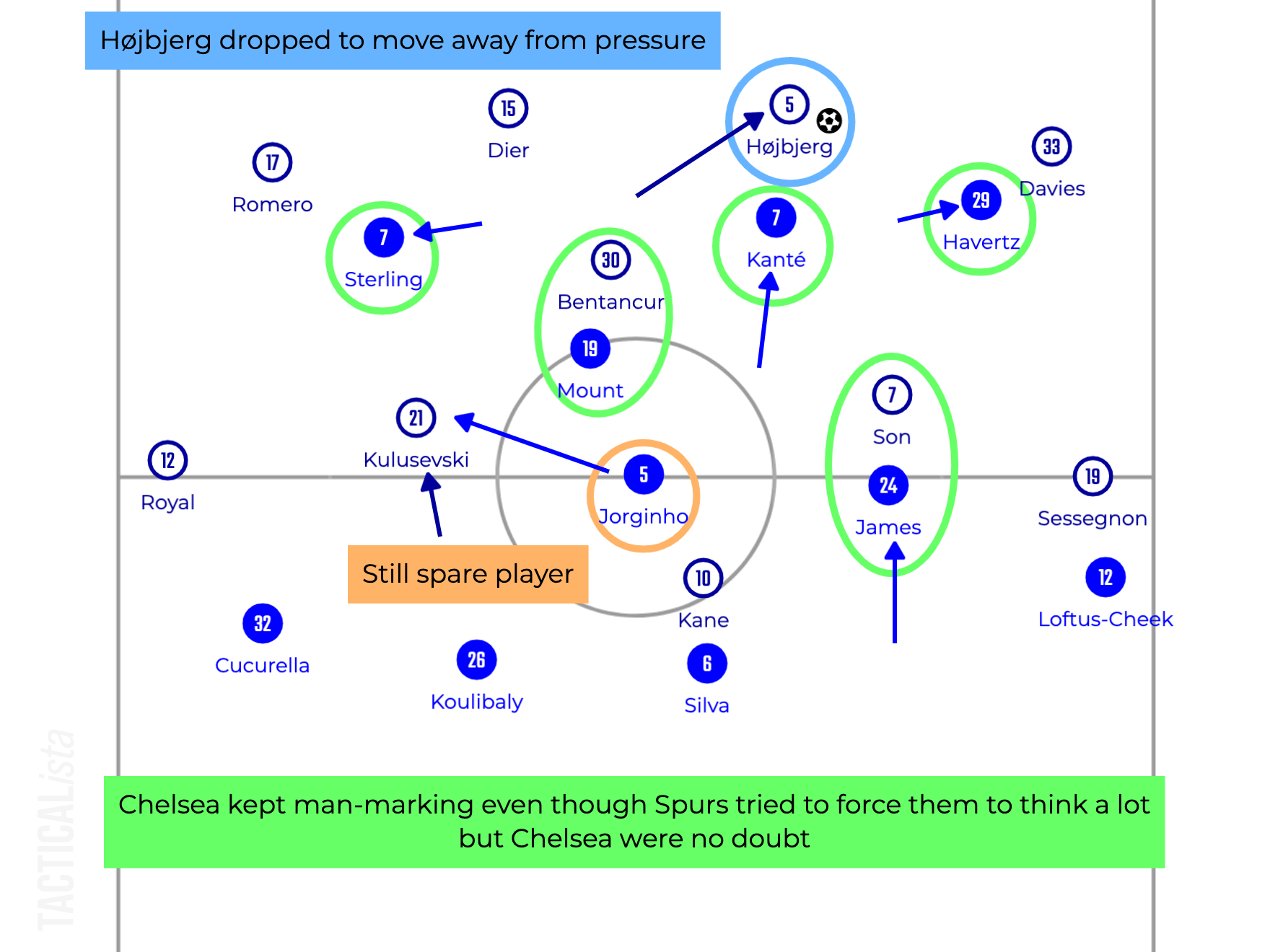 However, Chelsea had no doubt. They kept man-marking pressing and Jorginho was still a spare player to mark Kulusevski if he drops. Additionally, Son started to drop more frequently so James kept marking him to prevent him from receiving the ball with time and space. Overall, Chelsea adapted the changes by Spurs and stopped them completely.
But both got a point. That is football. Thanks for reading.