Introduction
Spurs, who luckily secured a point in the last game against Chelsea, struggled both in possession and out of possession in this game. There were only simple long balls in possession and wide areas were broken down by various combination of Wolves when defending in final third. However, Harry Kane scored his record broken goal and Spurs could grab three points. On the other hand, Wolves could do well in final third attacking but failed to score. Therefore, in this article, the detail of Wolves' final third attacking and the reason why they couldn't deliver successful crosses are mainly going to be analysed.
Boring Spurs in Possession
Before analysing Wolves' possession, it is important to know why they could possess the ball. The possession of Spurs was just boring and only playing in behind and hoping that Son or Perišić won it.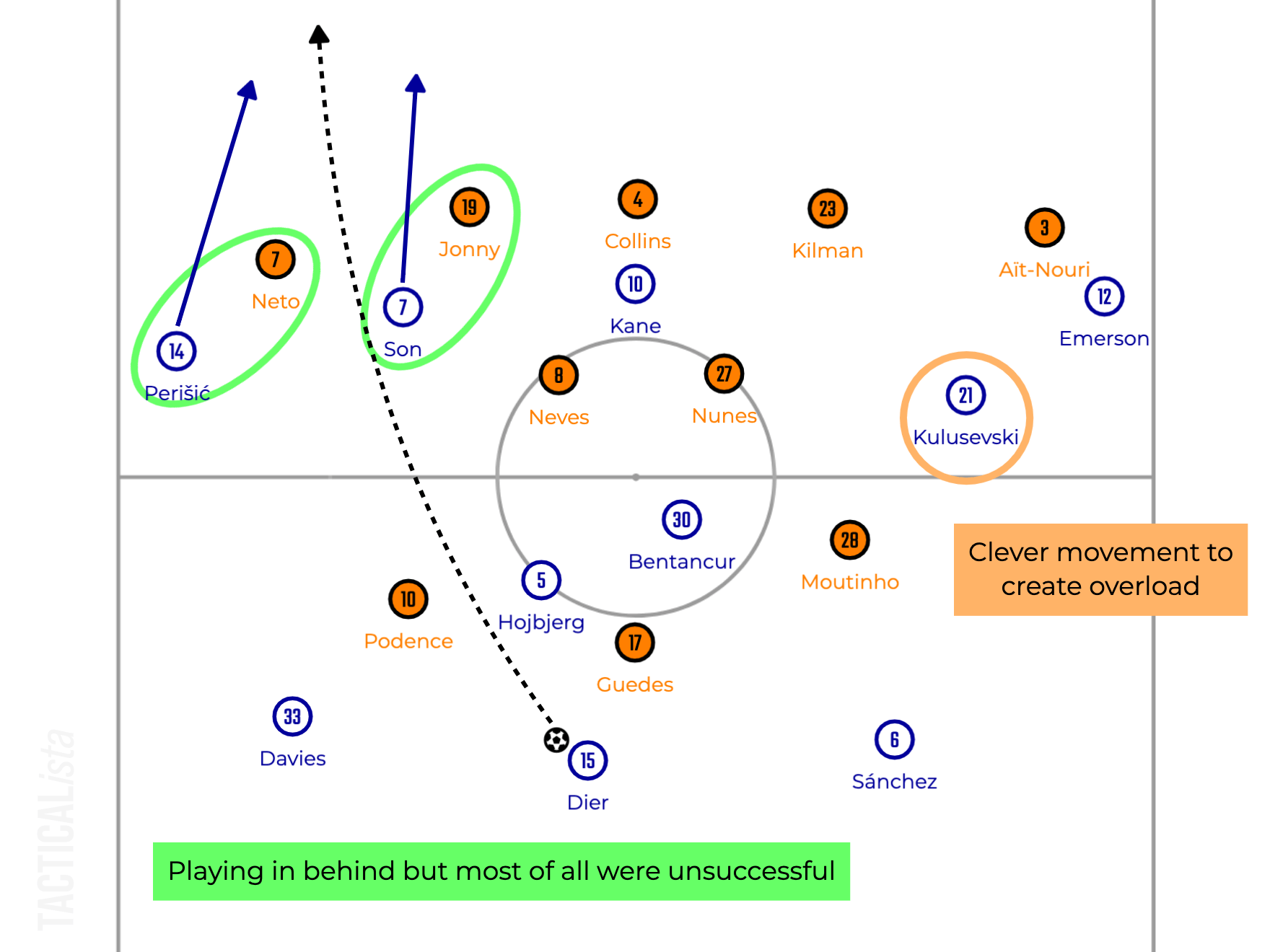 They could possess the ball in the back line with Højbjerg offering a passing lane against Wolves' three players in their first line. However, it was difficult to find a spare player in between the lines as five defenders of Wolves could mark Spurs' attackers individually. In other words, it was possible to play in behind if the attacker could lose his marker in 1v1. Therefore, Spurs played long a lot as Son or Perišić have an ability to beat their marker but most of all were secured by the opposition defenders or goalkeeper.
As he did in the game against Saints who defended with back five, Kulusevski floated in between the lines to create overload with Emerson. Sometimes they swapped each position to confuse the defenders and it was very effective. However, Wolves tried to force Spurs to play right which is the opposite side from Kulusevski and Spurs also wanted to play left where Son or Perišić can run in behind so Kulusevski couldn't touch the ball a lot.
Spurs threw the ball away too quickly and didn't press with high intensity so Wolves could possess the ball in the opposition half.
3rd Man Combination
Wolves tried to use the width where Aït-Nouri and Neto positioned themselves to stretch the opposition compact 5-4-1 block horizontally. After playing to the wingback, the attacking midfielder and striker combined each other to break down the wide area.
One of the most frequent movements was that the player inside of the wingback ran in behind. This could create two options for the wingback which playing though or dribbling inside. Additionally, one of the strikers could offer a passing lane to play inside. This combination was effective enough to exploit the space in wide areas and they could deliver some crosses inside of the box. However, they couldn't find a spare player in the box and most of all crosses were blocked and cleared by Spurs' defenders. Then, the reason of this is going to be analysed in the next chapter.
Why Were Wolves' Crosses Blocked?
Wolves could play well in wide areas and Spurs looked loose in defending there. However, Spurs hadn't conceded any goals and forced them to take hopeless shots from outside of the box. Therefore, it is possible to say that Spurs allowed Wolves to play comfortably in wide areas to defend the most important area which is the space in front of the goal.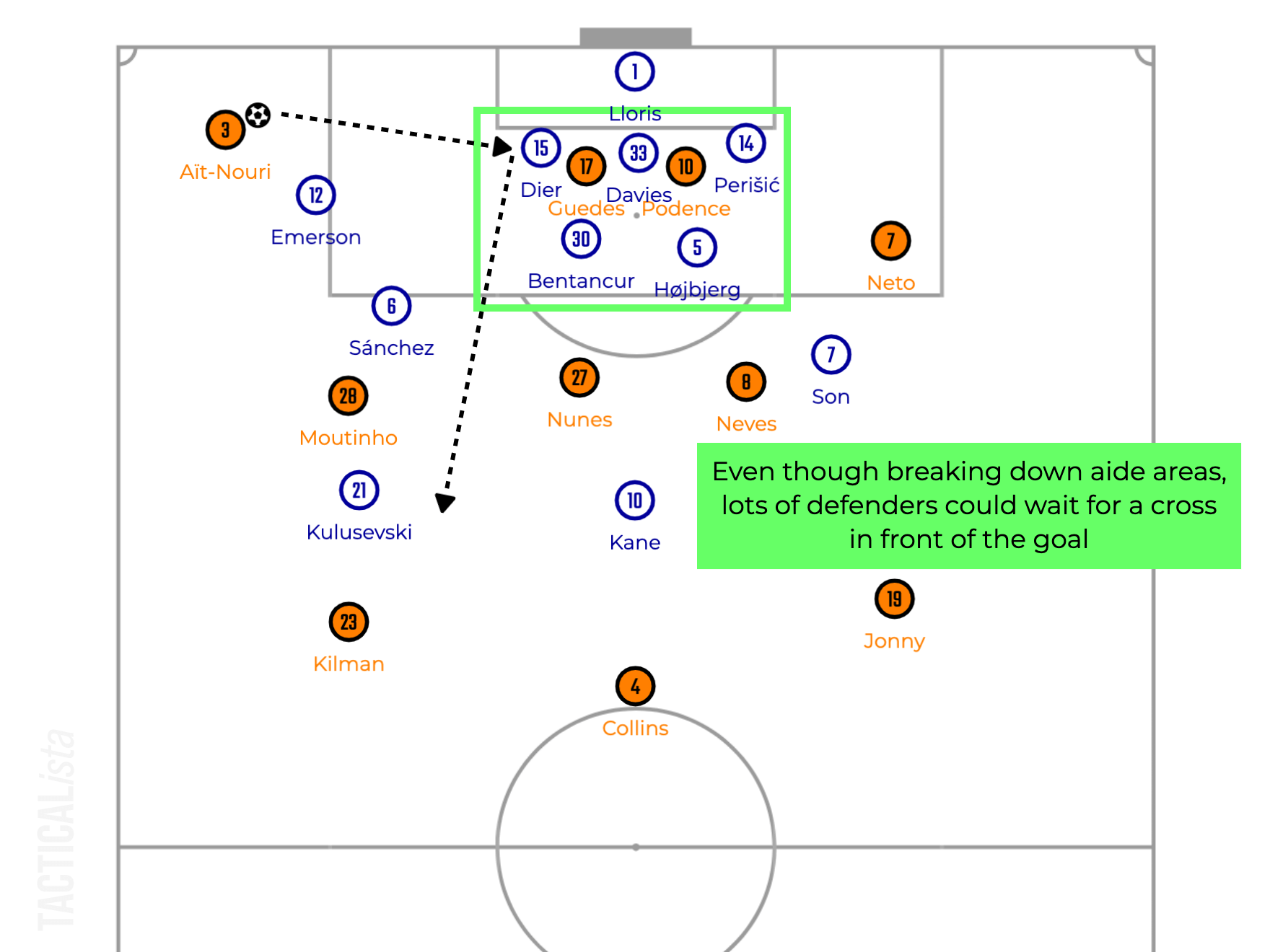 As it is possible to see in this picture, Spurs could defend against crosses with at least three defenders and two defensive midfielders. If Spurs tried to win the ball in the wide areas, one of the defensive midfielders or centre backs needed to move away from the central area to help defending in the wide areas. However, if they failed to regain the ball there, Spurs would need to defend in front of the box with a smaller number of defenders. This is a risk which Conte hated to take. Therefore, Spurs focused on defending the most important area and completed their mission.
On the other hand, what could Wolves do to cause more problems on Spurs' defenders? They tried to exploit the space behind wingback vertically, but they should have played towards the goal more in order to draw the defensive midfielders or centre backs out of their position so that they couldn't defend in front of the box. For example, both wingbacks always ran forward, but if they underlapped towards the goal after playing the attacking midfielder or striker, it might be possible to force one of the defensive midfielders or centre backs to move away their position to mark the wingback.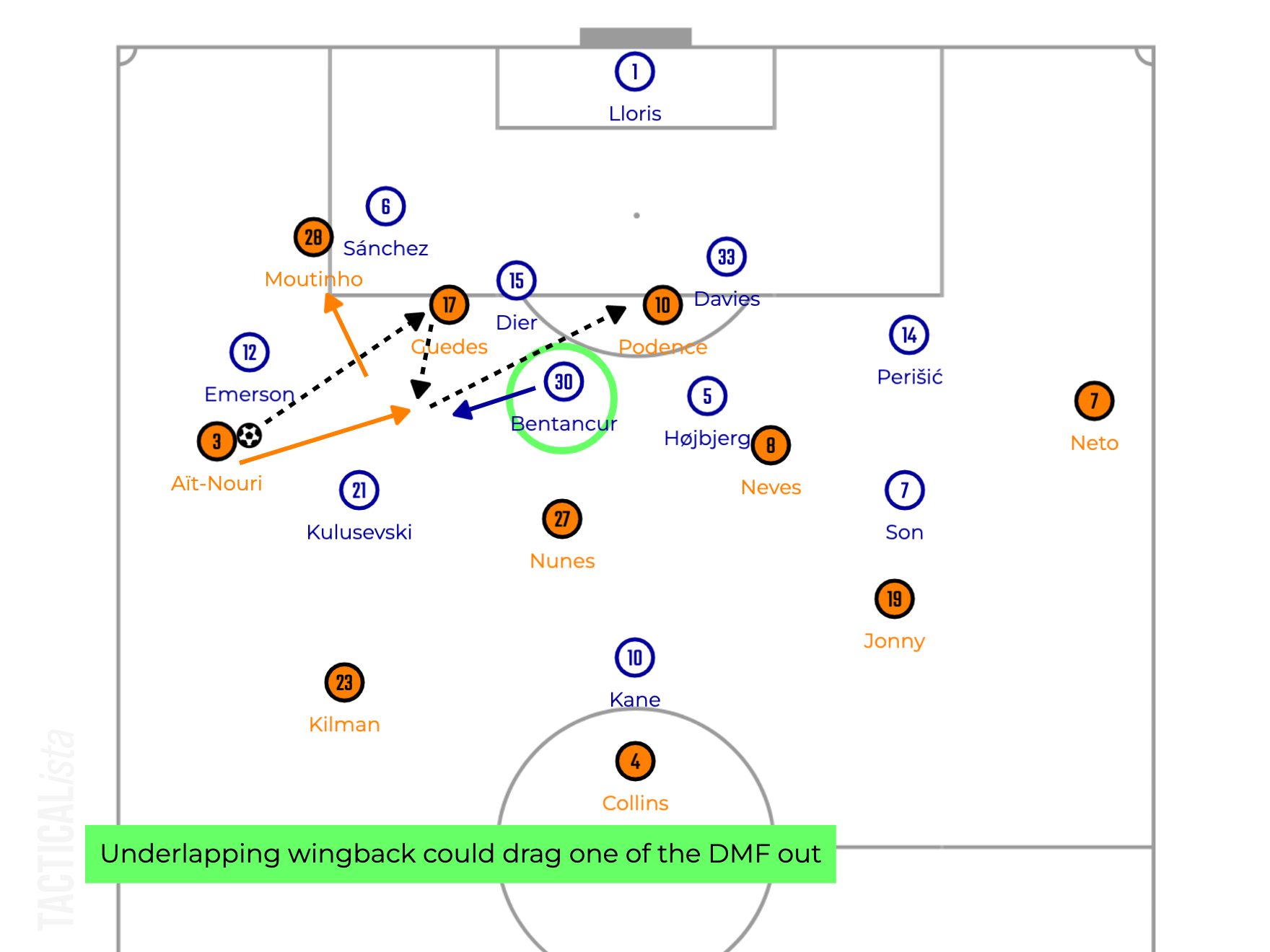 In conclusion, playing towards the goal is very important to break down the opposition block in the final third. Thanks for reading.