Introduction
Manchester United who had lost the first two games of the season beat Liverpool who won 5-0 at Old Trafford last season. In this season, new manager Erik ten Hag struggled with implementing his beautiful football so far but he had focused on just a win against Liverpool at home and done it. The football United showed us was what they did last season under Solskjær but really functioned against Liverpool. In this article, how Erik ten Hag maximise the strength and hide weakness of his team is going to be analysed.
Pressing to Counterattacks
The strength of United is definitely counterattacks with Sancho, Rashford and Elanga who can run in behind and Fernandes who can play key passes. On the other hand, the possible weakness against Liverpool would be playing out from the back, which they struggled with even against Brentford. Therefore, only one way to beat Liverpool is letting them have the ball and playing counterattacks by winning the ball in midfield. Here is how they do it.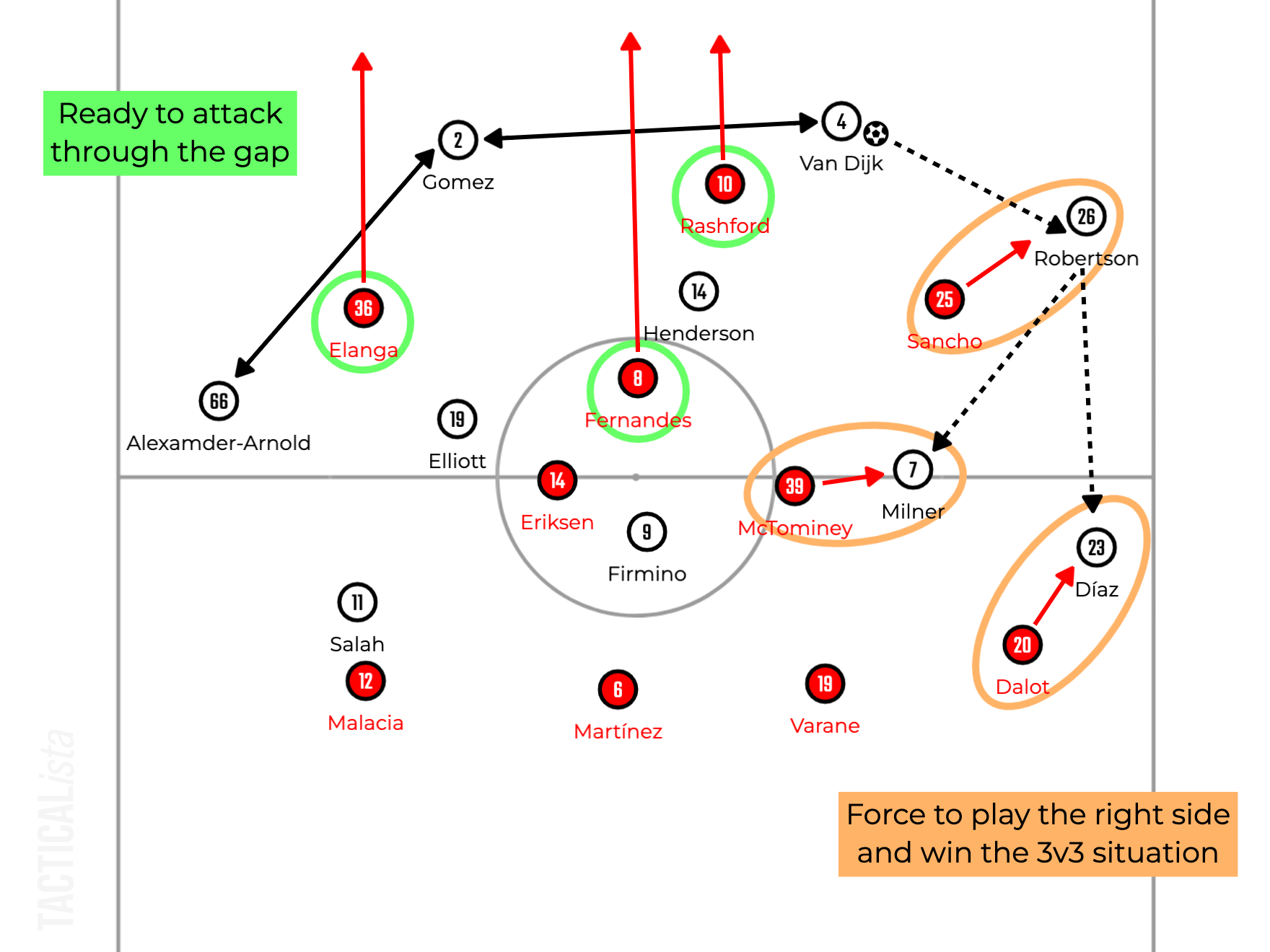 The important things are how to win the ball and how to play counterattacks. United tried to force Gomez and Van Dijk to play wide mainly the right side of United and mark each player to regain the ball. To make a numerical equally situation is what tactics can provide to players but winning the duel and regaining the ball are what players need to solve by themselves. In this game, sometimes Diaz could hold the ball for a while to wait for a passing lane but in many cases, United players won lots of duels and the ball back.
After winning the ball back, United tried to play forward as quick as possible. Liverpool's defenders often spread wide in possession like most teams do in order to make the pitch big so the gap between them is huge. In order to exploit these spaces, Ten Hag had Elanga stay high out of possession to run in behind quicker. Additionally, both Rashford and Fernandes were also ready for exploiting the space in behind and they played some critical counterattacks.
Liverpool's Adjustments
Against well organised pressing by Ten Hag, Klopp's side tried to keep the possession safely by making some changes. One of the common ways to fix the build up play is adding a player who involves build up play at the back. However, in this game, Liverpool added players too much.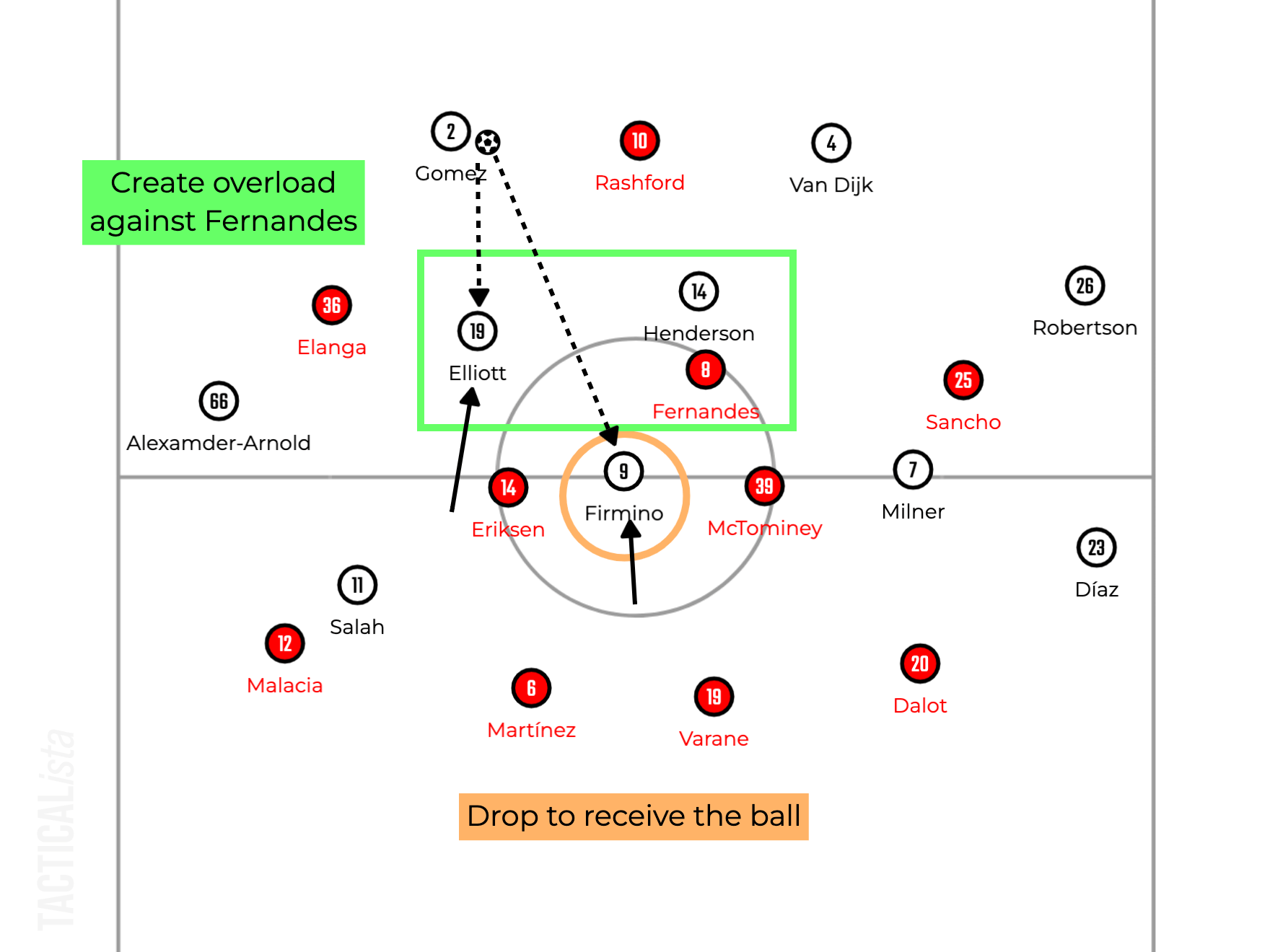 The feature of pressing by United was forcing the centre back to play wide by marking Henderson by Fernandes. Therefore, Liverpool tried to add players around Fernandes to create a passing lane into the middle of the block. Elliott, the left attacking midfielder often dropped to offer a passing lane and sometimes Milner swapped the position with Henderson. Moreover, Firmino offered another passing lane at the back so Liverpool could fix the build up but caused another problem at the front. This related the problem in final third attacking but too many players moved back so they struggled with playing forward.
The Isolated Final Third Attacking
As it was mentioned before, they couldn't do well in the final third. The biggest problem was the isolation around the box.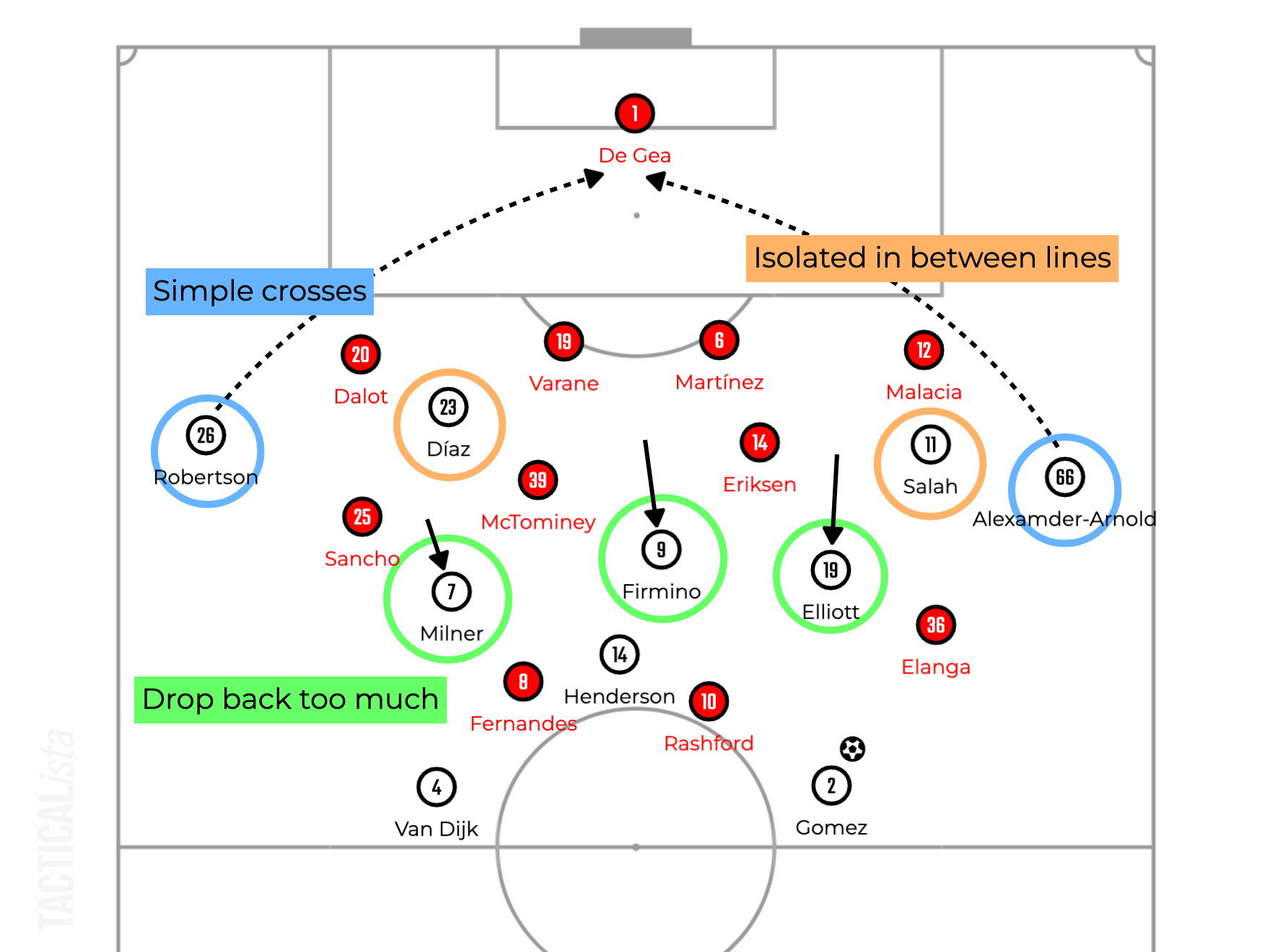 As it was discussed in the previous chapter, lots of players dropped back so both wingers couldn't gain sufficient support in between the lines. Sometimes Milner or Elliott went higher but Miner is not a player who can threat the opposition players and Elliott can play with Salah well but the number of combinations was less. Then, both fullbacks also couldn't provide crosses in dangerous areas. Usually, the dangerous areas are made by disturbing the opposition defenders by attackers but they couldn't threat the opposition defensive block at all so they could defend well against these crosses.
I personally wonder why Liverpool looked so a low intensity team even though their strength is the high intensity. I need more knowledge and experience to understand it. Thanks for reading.